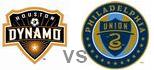 Houston Dynamo 2 - 1 Philadelphia Union
Video of the Houston Dynamo v Philadelphia Union highlights on 1/7/2012
Houston Dynamo beat Philadelphia Union 2-1 in their Major League Soccer match at the BBVA Compass Stadium in Houston, Texas.
Houston Dynamo's goals were scored by Davis (19') and Ching (pen 83') and Philadelphia Union's goalscorer was Daniel (46').
Houston Dynamo's starting line-up was Hall, Taylor, Boswell, Ashe, Hainault, Cameron, Camargo, Davis, Boniek García, Bruin and Kandji while Philadelphia Union lined up with MacMath, Valdez, Okugo, Farfan, Williams, Enrique Gómez, Carroll, Farfan, Daniel, Pajoy and Perlaza.
You can follow Soccer Texas on Twitter @soccer_texas
Source
Soccer Texas: MLS: Houston Dynamo 2 Philadelphia Union 1 Highlights