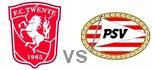 FC Twente 1 - 2 PSV Eindhoven
Video of the highlights & goals from FC Twente v PSV Eindhoven on 22/12/2011
Tim Matavz's extra-time double earned PSV Eindhoven a berth in the quarter-finals of the KNVB Beker Cup as they claimed a 2-1 victory over FC Twente.
FC Twente's goal was scored by Janko (pen 110') and PSV Eindhoven's goalscorers were Matavz (102', 114').
FC Twente's starting line-up was Mihailov, Wisgerhof, Tiendalli, Rosales, Franco, Brama, Janssen, Fer, Chadli, de Jong and John while PSV Eindhoven lined up with Isaksson, Derijck, Marcelo, Willems, Manolev, Mertens, Wijnaldum, Strootman, Labyad, Matavz and Toivonen.
Marc Roseblade is a Contributor for Bleacher Report, Football Speak, Allvoices, OurGameMagazine as well as PR for Ayr United Football Academy & Galveston Pirate Soccer Club. All quotes are obtained first-hand unless otherwise stated.