Tweet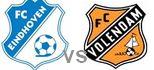 FC Eindhoven 2-0 FC Volendam
Video of the highlights & goals from FC Eindhoven v FC Volendam on 19/11/2011
FC Eindhoven beat FC Volendam 2-0 in their Eerste Divisie match at the Jan Louwers Stadion in Eindhoven.
FC Eindhoven's goals were scored by Koc (41') and Mokhtar (76').
FC Eindhoven starting line-up was Swinkels, Lucius, Tahapary, Vanbelle, Rossen, van Son, van Boekel, Waalkens, Koc, Makiavala and Mokhtar.
FC Volendam starting line-up was Ruiter, Lindenbergh, Koning, Roj, Piqué, Tol, Bakkenes, Mühren, Ahahaoui, Schilder and Tuyp.